Treat Yourself to a Brand New Spa Bathroom
The Additions You Need to Create a Smart and Luxurious Bathroom Space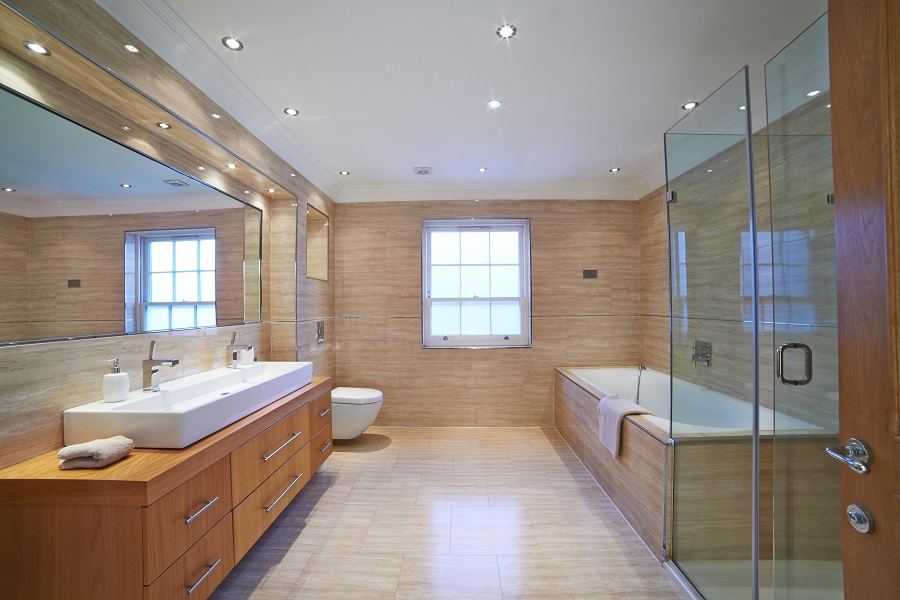 When we talk about adding smart home technology all over your Maui, HI, home, the one area we don't mention as often happens to be one of the prime opportunities to create your dream home. If the picture above didn't give it away, yes; it's your bathroom.
If you've ever wanted to wind down after a long day at work, many of us think of heading to our home theater and escaping into our favorite movies. And while we love setting up audio and video and consuming media with the top equipment available, we can't think of something much more relaxing than a spa bathroom to relax your anxiety away with a glass of wine. Can you?
Keep reading to see what we can do to level up your bathroom so you'll feel pampered and refreshed every day.
SEE ALSO: Harvest the Daylight in Your Home
Jacuzzi Tubs
Perhaps the centerpiece of your spa bathroom will be your jacuzzi tub. If you have a large enough bathroom, we recommend a deep, freestanding soaking tub to add to a focal point in the room. Soaking tubs allow you to sink deeper into the warm water for maximum relaxation. As a central architectural element, this fixture can help your style shine, too. Mimic an old Victorian-inspired piece, or take design cues from something more mid-century modern.
Smart Showers
If you don't have time for a bath, or maybe even prefer to shower, we can install technologies to make the everyday shower feel much more luxurious. If you've ever stepped into a cold shower, you'll love smart shower technologies like the Moen U, which you can voice-control via Alexa.
Trying to save water? Invest in the Hydrao Smart Shower, which shows you how much you used, and alerts you to your usage while you're in the shower by lighting up with different colors for different amounts of water.
Whole-Home Music
When we install a whole-home music system for every room of your house, there's no reason to leave the bathroom out! Imagine how much more relaxing your jacuzzi experience will be with a little ambient background music. Whether you love chillwave, classical, or meditation music, we'll install the equipment that enables a premier listening experience right where you are. For example, Control4's Rhapsody integration allows you to pre-select the tunes you want to hear in the tub. You can control your music selection with your voice, so you never have to leave your bath.
Radiant Flooring
After you've had the most relaxing bath of your life, you don't want to step back to reality with a jarringly cold floor. As seasoned electricians as well as smart home designers, we can add heat-conducting equipment underneath your feet that effortlessly syncs to your smart home control.
The Right Lighting
One of your most significant assets when creating a serene atmosphere is your lighting. We've talked before about how the effects of varying lighting temperature and tone throughout the day and how it enhances your sleep-wake cycles. It makes sense that you might need dimming technology, LED fixtures, and lighting control so that your spa experience mimics the lighting scheme of top local spas.
Bespoke Luxury for Your Bathroom
We believe that bathrooms should become an integral part of your smart home design, and we look forward to installing the tech that makes every day a spa day. Ready to unwind in your customized home spa? Call our office at (808) 874-8019 or contact us online.