3 Features of the Neeo Remote That Have Clients Raving
Control4's New Remote Combines Traditional Button Control with an Intuitive Touchscreen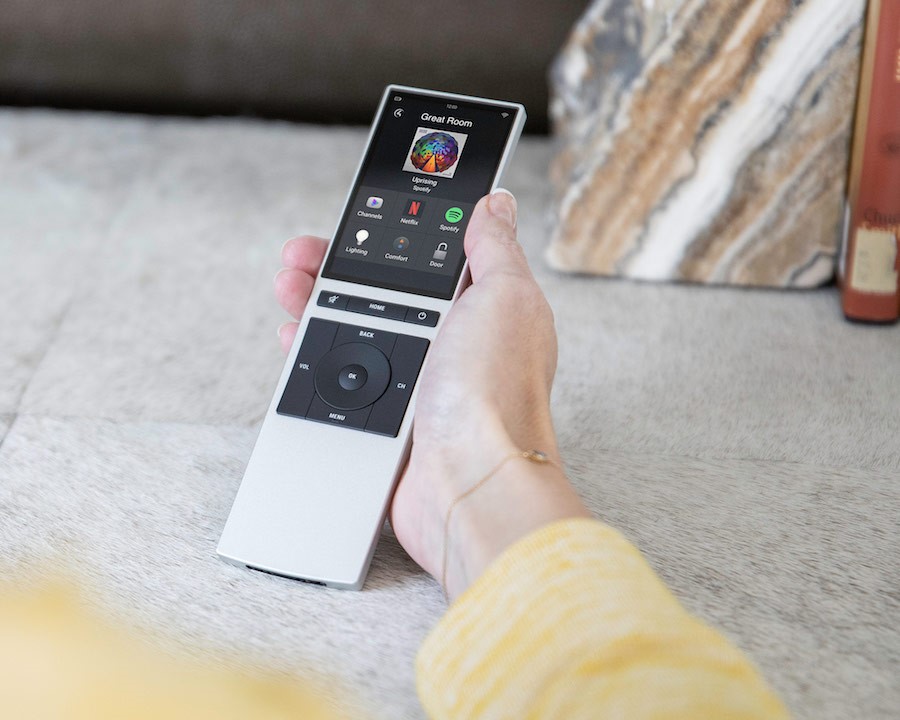 If you have worked with us before, you know why we think there are plenty of reasons to make Control4 your choice home automation system. It features many customization options, including a vast network of 14,000 third-party integrations to enjoy, such as music and video tools, security devices and much more.
Last year, Control4 set a precedent within the automation industry when they released their Smart Home OS 3 system, full of user-friendly enhancements that allowed customers more intuitive control of their whole home, from one platform. More recently, the company purchased the Neeo remote specifically with Smart Home OS 3 suite in mind, while giving Control4 users a remote that appealed to their need for buttons and a touchscreen. The Neeo features an attractive interface and a sleekly designed aluminum body that holds up to everyday wear and tear.
As your Kihei, HI, Control4 dealers, we look forward to showing you more details about the Neeo remote, including three reasons it might be what's missing in your smart home.
SEE ALSO: Why Should You Enlist a Home Automation Company?
Control Options
Not many remotes combine the buttons you're used to reaching for and a large-enough touchscreen to operate any function within your household. This feature alone, in our opinion, makes Neeo worth the investment. At three inches, the graphical glass touchscreen is large enough to scroll through channels, functions and rooms in seconds. But if you're like many people, you don't want to use a touchscreen to manage everything. Sculpted buttons provide control for the most common functions, like play and pause and volume control.

When looking more holistically at control, you'll find that the Neeo operates as a perfect complement to the Control4 Smart Home OS 3 system, deftly managing all its complexities within one handheld device. These remotes are not just for entertainment: A panel on top designates the room you're controlling, and you can switch between spaces to show all connected functions within that room. Forgot to turn off your kitchen lighting, but you're too comfortable to get up and use a control panel? Slide to "Kitchen," tap "Lighting" and adjust accordingly. It's that simple with Neeo.
Durability and Battery Life
Having both touchscreen and button control options enhances Neeo's user experience, but those aren't the only features clients appreciate. No one wants to buy an investment piece that they have to tiptoe around for fear of it breaking the first week they have it – or worry that a kid or pet will destroy it. Neeo's screen can hold up to falls, and its metal body resists breakage, so you don't have to worry about tossing it a few feet or hiding it from your dog.
Users also enjoy Neeo's long battery life. The remote automatically shuts off when not in use and "wakes up" when handled. An attractive, matching charging station holds the device and quickly charges it.
Attractive Appearance

Control4's previous model, the SR-260, had a button for nearly every function within the room, which resulted in a highly functional yet cluttered remote control. Like the Neeo, the SR-260 featured a touchscreen, but it was too small to streamline the interface and free it from excess buttons. Neeo, however, keeps buttons to a minimum so that the remote looks like a sleek combination between a mobile device and a TV remote. Neeo's glass and aluminum design replace the traditional, shiny plastic control and recreate it into something you'll feel proud to display on your coffee table.
Contact Us Today!
It's not enough to read about Control4's Smart Home OS 3 or the Neeo remote. As Kihei's top Control4 dealer, nothing delights us more than the first time we show you how it works in your own home. You can call our office at (808) 874-8019, visit our contact page, or chat with us using the box on the bottom right.